Select a demo product...
Vendor:

Regular price

From $20.00 USD

Regular price

Sale price

From $20.00 USD

Unit price

per

Vendor:

Regular price

From $20.00 USD

Regular price

Sale price

From $20.00 USD

Unit price

per

Vendor:

Regular price

From $20.00 USD

Regular price

Sale price

From $20.00 USD

Unit price

per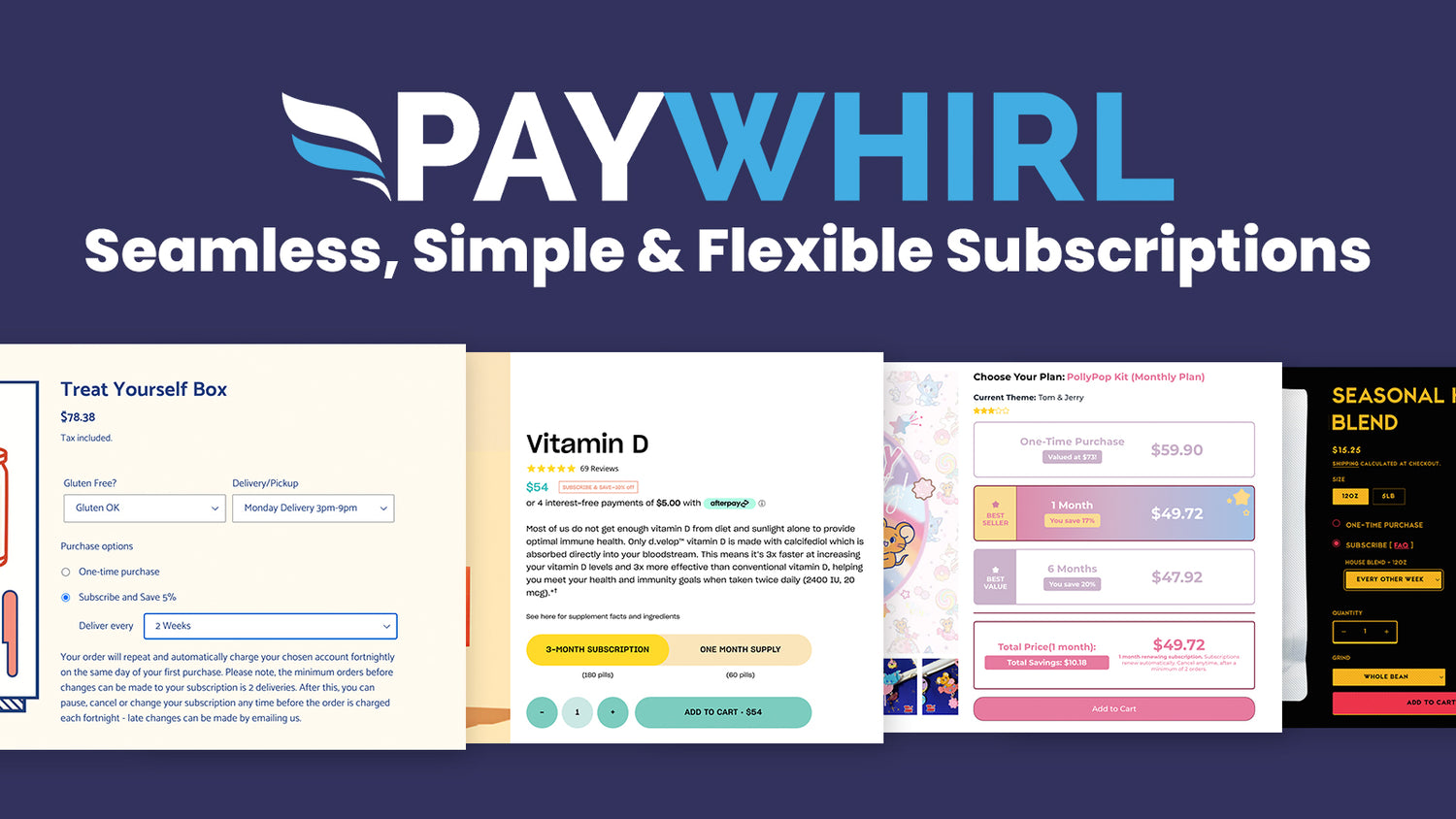 Sell Subscriptions on Shopify
Save payment methods and offer new payment options to your customers. Allow customers to manage and customize subscriptions on their own.
Get started for free!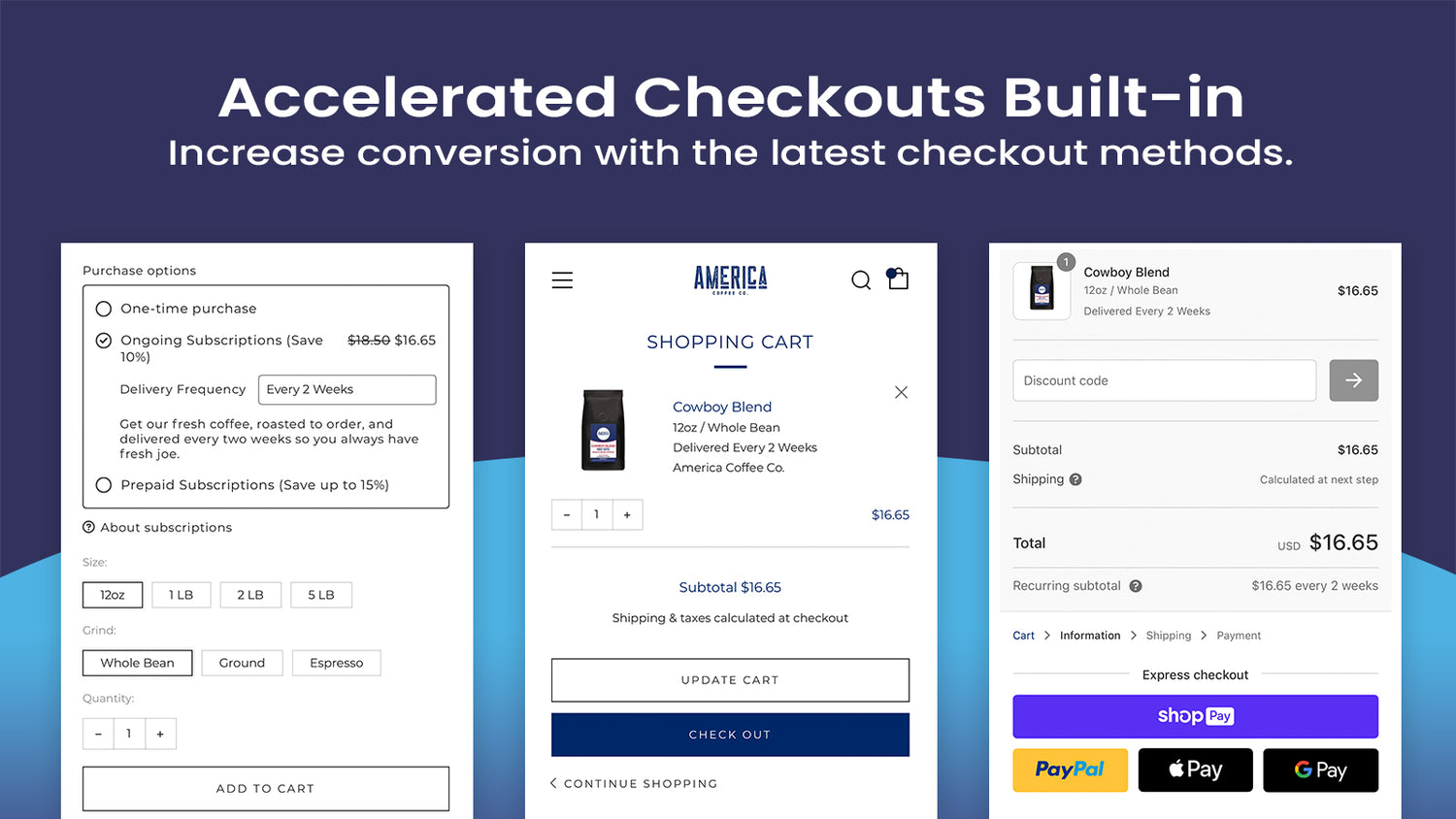 Automatic Billing
Automatically charge customer payment methods and create orders. Includes subscription notifications & automatic failed payment management.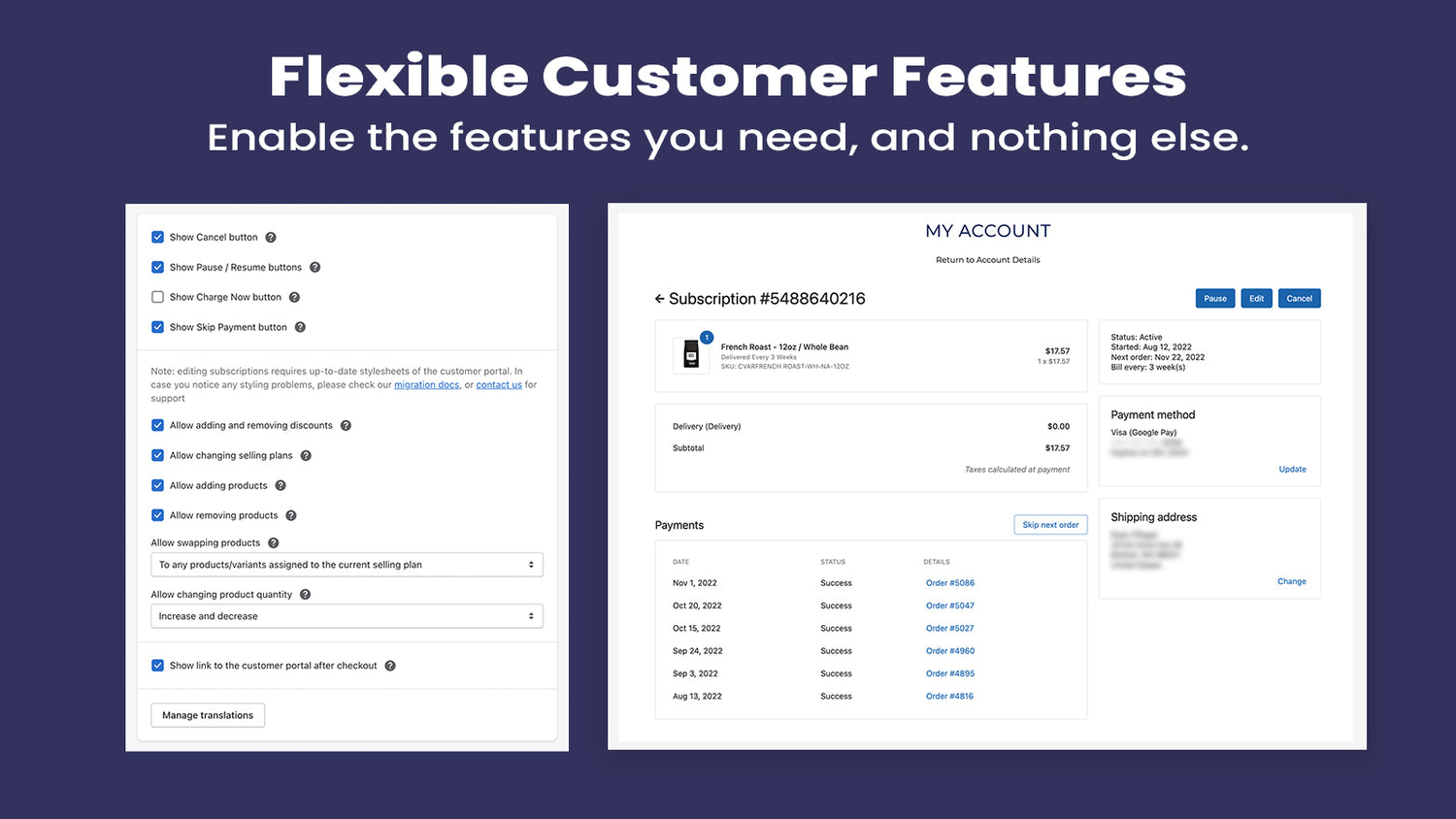 Integrates Seamlessly
PayWhirl integrates seamlessly with your cart, Shopify Checkout, orders, themes, shipping, and taxes. Copy & Paste Setup. No redirects off site for checkout!
Add PayWhirl to your store
Easy Management Tools
PayWhirl has everything you need to manage subscriptions effectively with powerful bulk actions, search and & sorting ability. Managing a subscription program has never been easier!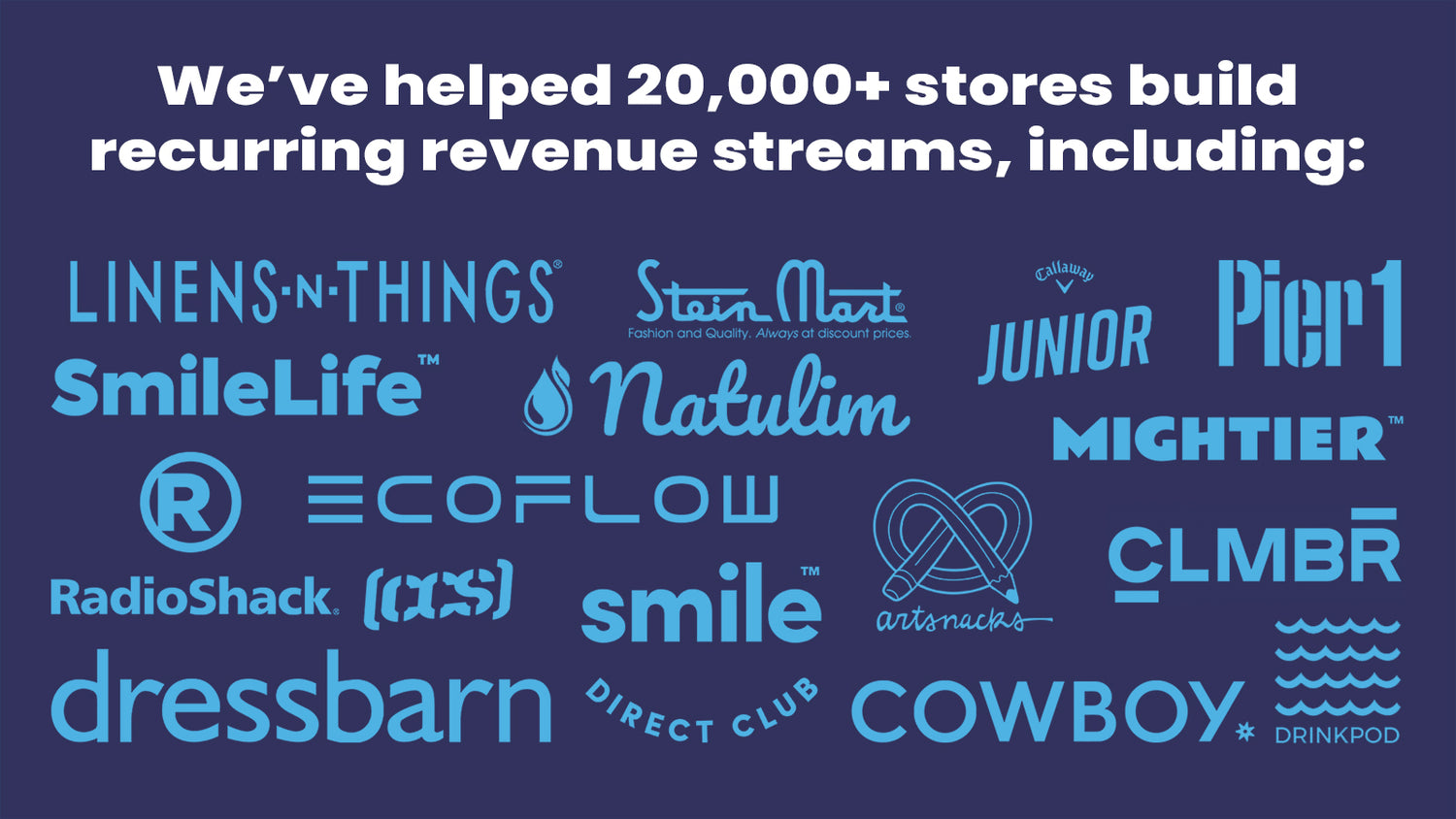 Trusted & Built for Shopify
Over the last 10 years we've helped tens of thousands of Shopify merchants implement successful subscription programs.
Get started for FREE
20,000+ stores use PayWhirl to power their recurring payments & subscriptions...
Example stores using PayWhirl
What businesses are saying...
"I don't leave many reviews but the team at PayWhirl 100% deserve it. Ryan and Sergei always reply very quickly to support needs and questions. I've suggested multiple features e.g. retention analytics and they always engage. I was SO happy to see retention stats go live in the dashboard recently. They started off behind BOLD and ReCharge but are adding features at a breathtaking rate. And the value for money as a business owner is exceptional compared to how much people complain about competitors. I can't recommend PayWhirl enough. This is one of, if not THE single highest value-add app in our Shopify stack. If you're looking to implement subscriptions for any of your products, go with PayWhirl, you won't regret it."


- Biotikur

"I opened my first online store in 2005. Over the years I have opened several more; and now have a total of 6. Which is to say, I have an enormous amount of experience with online stores - and various platforms, tools, products, services, and apps. And so it is with some authority that I will share with you this opinion about PayWhirl: It is hands down the best subscription product available. Period. I've tried dozens of them, I currently use 3 of them. I will be converting all of them over to PayWhirl immediately. But there's more. (Shopify) App support is notoriously bad. PayWhirl's support is just remarkable. Send an email you get a reply. Ping them via chat (Intercom) in the app, they reply. Need special love? I needed plenty with my current project - and they hopped on a Zoom call with me 3 times! (Shopify, take note! Your support used to be great. Now? Not so much) Even more bonus points for this team for their companion products Upsell and Glow. The integration of the 3 (subs/tagging + sales funnel automations + customer loyalty program) is super tight. I would and could go on; but then someone would probably think that I am someone at PayWhirl's mother :) lol Try it and see for yourself. I'd give them 6 stars if I could."


- ioBusinessMusic

"We were looking for a simple, yet robust subscription app for our fast growing magazine and membership site! PayWhirl made it so easy to get setup. I was hung up on a couple settings, but with a ton of patience and clear direction - Sergey helped me in a jiffy. I really wish we had switched over to PayWhirl sooner, our subscriptions, and auto-renewals are so streamlined now. We're even able to migrate our current subscribers from our old Wordpress site so everyone is now in one place. 5 stars for PayWhirl. You won't regret this app, and the customer service is responsive and there to help you get the app going so you can concentrate on your growing your subscription business!


- Trailblazher Co.

"PayWhirl have been incredible and I'd recommend them without a doubt! I love that they listen to your suggestions and work to action them, they keep you updated and are so quick at responding to any queries. I left another well known platform to join PayWhirl and have never looked back. The integration process is super easy with so many really helpful features that just keep on improving! Even bringing out new features I never realized I needed. Couldn't be happier!"


- Loving Small Business

"Chose PayWhirl after fully exploring all 3rd party subscription options, and am very pleased. Great app, easy setup & execution, and possibly most importantly, excellent support. Very responsive, really helpful with troubleshooting, theme help and suggestions. Highly recommended."


- HI-VIBE

"Paywhirl is awesome and simple for subscriptions. I used the standalone site embedded in a previous website and recently made the swap to Shopify. The team made it really easy to transfer my data from the previous account and have been very responsive every step of the way! Can't recommend Paywhirl enough."


- Blue Copper Coffee

"PayWhirl made this process easy! They seemed to understand that there were a lot of people who were new to e-commerce, so they give you easy options for support calls. I spoke with Lincoln, and he was patient as he followed along on his test page so he could see what I was seeing. He made every step easy and even helped me calculate which plan was best for my business (which was NOT the highest-cost version!). Painless! Highly recommended."


- Coach Jay's Chess Academy

"We have now installed this app across 3 different businesses we own. The team at Paywhirl are super friendly, helpful and quick at responding. They have helped us with installation and we are really happy with the functionality and design of the app. It will definitely help us make more sales for sure!"


- Kahuku Natural

"Simple to use app that has helped keep my customers returning. Customers find updating their subscription easy and PayWhirl have even designed a cancellation flow (which most organisation try pretend don't exist!). My customers love the consistency in their orders, the flexibility available in their plans, and of course the ability to save money. PayWhirl support has been incredibly helpful when needed and are very responsive. Fantastic app. Paid for itself many times over"


- Better Tea Co.